Sara Grogman, DVM
Veterinarian
Dr. Sara Grogman is the owner of Glencoe Animal Hospital and has been practicing here since June of 2004. She graduated from University of Illinois at Champaign-Urbana in 1999, and was practicing at an animal hospital in Chicago for 5 years prior to coming to Glencoe Animal Hospital. Dr. Grogman has three rescue dogs – Crumpet, Prudence, and Birdy – as well as a cat, Tug. She enjoys triathlons, scuba diving, and reading.
Libby McVey, DVM
Veterinarian
Dr. McVey graduated in 2000 from the University of Wisconsin. Since then, she has practiced both ER and general veterinary medicine around the North Shore and northwest suburbs, including most recently at the Veterinary Specialty Center emergency department. Dr. McVey is especially interested in preventative medicine and soft tissue surgery. In her free time, she enjoys knitting, painting, and gardening. She lives with her two Chesapeake Bay retrievers, Jolene and Rubin.
Valerie Aldridge, DVM
Veterinarian
Dr. Aldridge earned her DVM from Michigan State University in 2005, graduating first in her class, and her bachelor's degree from Northwestern. She is especially interested in geriatrics, pain management, dermatology, and allergies, and is currently studying to become a Certified Veterinary Acupuncturist. In her free time, Dr. Aldridge enjoys spending time with her family, working in the garden, and leading two Girl Scout troops. She lives with her husband, two daughters, two cats (Kristoff and Anna), and a rabbit (Reecie).
Reni Zemlyak
Hospital Manager
Reni came to us in 2012 from California, where she managed veterinary hospitals in both Los Angeles and San Francisco. She studied Arts & Literature at UCLA before deciding that working with animals was her true calling. She now lives in Skokie with her husband, two cats (Pinchy and Edy), and two rescue pit bulls (Patches and Tabitha). In her free time she enjoys helping animal rescues, yoga, reading, and travel. Reni has traveled on three continents so far, and hopes to one day have visited all seven.
Mike
Technician Assistant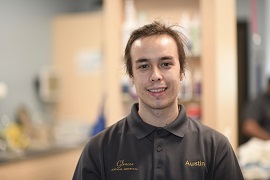 Austin
Technician Assistant