Pets are like our children – we feed, nurture and lavish attention on them. Our highly qualified kennel attendants do the same when you can't be there. We offer hospital boarding for pets with medical conditions, on medications, and nervous or older pets. We also have a kennel for healthier and/or younger dogs. Our kennel has larger runs and each run had its own outdoor area. Our kennel is equipped with central air conditioning and heat to keep your pet comfortable during their stay. Stop in any time and we will show you around.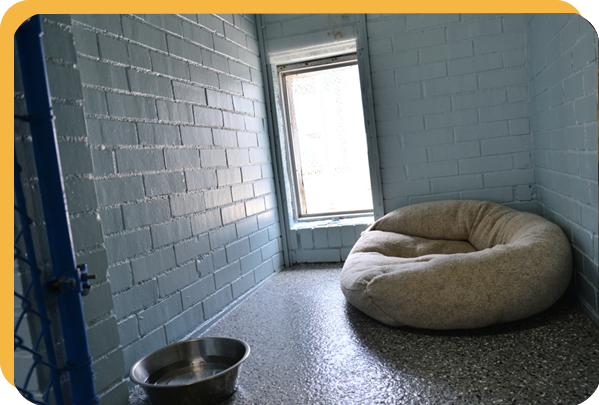 Hospital and Kennel Boarding
We offer both Hospital and Kennel boarding depending on your pet's needs. All boarding is equipped with central air and heat to ensure your pet's comfort. We clean and disinfect the kennel daily and the newly done epoxy flooring make this process very efficient. We have mats and blankets that are laundered daily for your pet to rest and sleep on, but feel free to bring their favorite bed and/or toy to make them feel more at home. We keep a daily report card of all pet's eating, drinking, and general health during their stay as well as a separate sheet for ensuring your pet gets all medications he or she may be on. We are committed to making sure your pet is comfortable and taken care of while you are away. Please stop by anytime to view our boarding accommodations.
Medical Boarding
Everyone needs to get away occasionally, but for those who have a pet with special needs it can be challenging to travel. It's difficult leaving a pet with mobility issues, diabetes, kidney problems, or any other ailment requiring special attention in the hands of a caretaker who may lack the skill and experience to meet all of your pet's needs. At Glencoe Animal Hospital, our Medical Boarding option means that our caring, compassionate, highly trained doctors, technicians and kennel staff will give your beloved pet the special care he or she needs while you're away.
Our indoor, climate-controlled boarding areas are warm, clean and comfortable. Your pet will receive fresh food, water, and bedding throughout the day, as well as regular trips outside for dogs. Each medical boarding pet is checked throughout the day by our experienced veterinarians and technicians, who administer the proper medications and any special treatments at the right times, as well as monitoring his or her condition and progress. You can feel secure knowing that, in case of any abnormal symptoms or emergencies, as a full-service veterinary hospital we are able to quickly evaluate and take action on any health problems that occur.
Have a more easygoing pet? We also offer standard boarding in our climate-controlled kennels, with indoor/outdoor access for your healthy dog. Rest assured that these pets receive excellent care too, with clean, comfortable accommodations, fresh food and water, and warm bedding. They are even checked daily by our veterinarians or technicians as well, and in the event of any issues, will receive prompt professional care to help get them back to tip-top shape!.
Boarding Form and Information